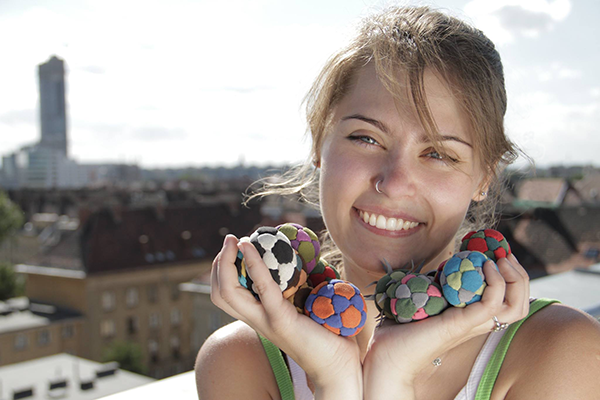 My name is Hanna Mickiewicz. Welcome to my footbag shop!
Hacky sack and footbag have been my passion since 2001. I stitched my first hacky sack in 2005. In 2011, my biggest dream came true – I won my first World Footbag Freestyle Champion title. The bag I used was a Haniabag. Since then, my footbags have become the choice of top players all around the world.

If you are looking for a top quality handmade hacky sack or a unique gift to a friend, check out my featured footbags below of browse the store by clicking the button in the top menu. Thank you!

Not sure which footbag to choose? Check out my short guide here.
Each and every one of my footbags is handmade, with attention paid to every detail of the sewing process. Thanks to my reliable "three-stitch" method they are durable, round and easy to control while kicking in a circle, or trying freestyle tricks.
I offer a wide selection of footbags, from 8 and 14 panel bags perfect for new players, through 32 panel bags in three different sizes, spike and XL footbags, ending with custom models that can look like your favorite TV or movie character!
Using a strong thread and consistent gather allows me to ensure that the bag will stay round and won't break even from strong kicks. All Haniabags are made from synthetic suede – a soft and slightly elastic material. There are many colors available, and you can choose your own combinations and patterns.